Light Towers
Canada Pump and Power is a distributor for Multiquip light tower and generator products.
Multiquip offers three series of high quality Mobile Light Towers to tackle your demanding requirements. Years of Construction Industry field experience have forged these units into trusted hard working tools. The LT Series is ideal for fleet and general use, the MLT Modular Tower Series provide versatility and multiple power packages, and the H2LT Series are environmentally friendly, quiet and extremely efficient.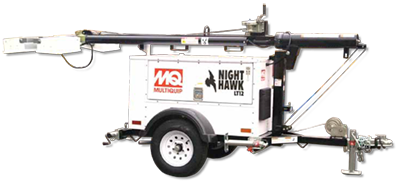 Nighthawk Series Light Towers
The Multiquip LT-12D Light Tower is designed as a value added source of dependable lighting and AC Power generation. The four 1000W light fixtures provide superior illumination, and convenient external AC Power is available for job site support. It is the perfect choice for construction, industrial and special event sites.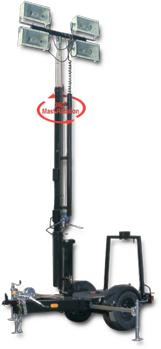 MLT-Series Modular Light Towers
Multiquip's Modular Light Tower (MLT) Series provide power, job site flexibility and highly desirous operating features. Three unique models are offered to meet your needs: (1) the MLT is available as a solid rugged trailer/tower frame without power source; and easily connects to external power to operate the four 1000W flood lights (2) the MLTDA7 is the MLT Frame combined with the dependable DA7000SSA Whisper Watt Generator and lights, or (3) the MLTSDW7 is the MLT Frame combined with the multipurpose SDW225SSA 225Amp Welder/Generator and lights. (MLT version illustrated.)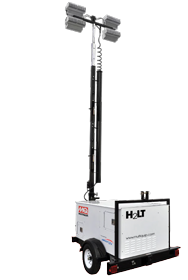 EarthSmart™ Hydrogen Fuel Cell Light Towers
Multiquip research and innovation has brought this clean energy technology to the forefront of the construction and power market place. In line with our commitment to corporate responsibility, we are the first construction equipment manufacturer to introduce a hydrogen powered light tower to the industry.ed.)