Announcing the Next Generation of Mighty Pumps
January 16, 2023
After extensive research, testing, design, and client feedback, we are excited to announce Canada Pump & Power's new generation of Mighty Pumps. These new units are designed to work in the most challenging working environments, such as those found across North America in the mining, oil and gas, and government sectors. Mighty Pumps provides reliable, long-term solutions with each pump featuring spill protection, remote monitoring, sound attenuated enclosures and heavy-duty trailer mounted chassis which are suitable for towing on highways and city streets. These next generation Mighty Pumps are easy to operate and maintain, reduce exhaust emissions from previous designs, and provide some of the highest pumping efficiencies found in the industry.
Designing Mighty Pumps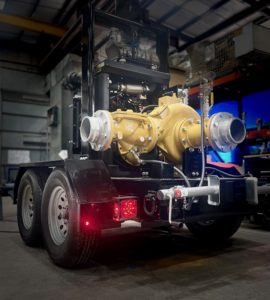 As part of our mission to provide the best products and services to our customers, we've unleashed our expert industry knowledge alongside our extensive dewatering and pumping experience to elevate the versatility and reliability of our pump designs. Our primary focus was building a better pumping system which could be easily deployed, operated, and maintained while reducing impacts such as noise and exhaust emissions on the environment and surrounding communities.
During the Mighty Pump design process, we completed an in-depth interview of manufacturers, materials suppliers, and other vendors in our supply chain to learn what state-of-the-art upgrades could be made. During our factory visits and meetings with manufacturers, we sifted through the mountains of information to pinpoint the key details that mattered most – including that most pump shafts on the market were too thin and break much too easily, something we've addressed by implementing large-diameter stainless steel shafts on all our pump models. Additionally, we utilized a mechanical seal on the pump which can triple – or more – the lifecycle of the pump seals. These features, and others like them, are now available to CPP consumers on a purchase or rental basis.
Towards Autonomous Pumping
All our Mighty Pumps use EPA-compliant engines designed for fuel efficiency, enabling our DT4, DT6, and DT8 Mighty Pumps to run for more than 24 hours without requiring a refuel. Plus, all our pumps use an automatic priming system which maintains continuous priming action without requiring operator intervention. Finally, Mighty Pumps offers telematics systems that provide clients with live pump data including location tracking, operational feedback, and maintenance status.
Noise-Reduced Projects
Another feature we've provided with each Mighty Pump is the sound attenuation enclosure which makes the Mighty Pumps ideal for use in municipal applications where decibel limits are in place. These sound attenuation enclosures can be removed with four bolts which provides access to the entire pump system for easy maintenance and service. With the sound of the pump's operation greatly reduced, the Mighty Pumps can be used for long periods of time in residential or commercial neighbourhoods that would otherwise be disrupted by the unwelcome noise.
Experts in Water Infrastructure
Canada Pump & Power has been delivering cutting-edge equipment and services to a variety of industries and sectors including mining, oil and gas, government, and municipalities for many years. We specialize in dive, pump, barge, dredge, and design/build solutions. Our Mighty Pumps systems are capable of handling fluid flows in hot and sub-zero temperatures found across North America– contact us for full product information.
---