Fat Truck: Versatility that Knows No Bounds
August 15, 2023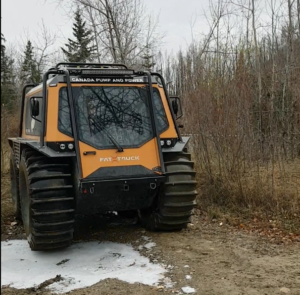 In the world of specialized equipment, there's a revolutionary vehicle that's transforming operations and pushing boundaries like never before. Meet Canada Pump & Power's Fat Trucks – the industrial amphibious vehicles taking the industry by storm. As the Fat Truck authorized sales, repair, and maintenance representative in the Regional Municipality of Wood Buffalo, Canada Pump & Power (CPP) is proud to bring you a game-changing solution to optimize your operations and unlock new possibilities.
Canadian Craftsmanship
Designed, engineered, and manufactured entirely in Canada, Fat Trucks embody the highest standards of craftsmanship and quality. These vehicles are built to tackle the toughest challenges and excel in transporting equipment, personnel, and materials to remote and hard-to-reach locations. One of the key advantages of the Fat Truck is its unparalleled versatility. They effortlessly navigate through marshy wetlands, rugged backcountry, and waterlogged areas where other vehicles struggle. Inaccessible locations become accessible, opening a world of possibilities for industries ranging from oil and gas, mining, and forestry, to environmental and construction projects.
Safety First, Always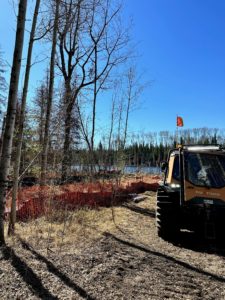 At CPP, safety is of utmost importance. Fat Trucks align with our commitment to ensuring our team's and customers' well-being. Equipped with advanced safety features, including a roll-over protection system, intuitive controls, and a reliable braking system, these vehicles provide peace of mind during operations, allowing you to focus on the task at hand, knowing that your crew is safe. CPP offers onsite training for personnel operating rented Fat Trucks to ensure safe operation.
When it comes to performance, Fat Trucks stand out from the crowd. Their powerful engines, high ground clearance, and superior traction enable them to conquer even the most challenging terrains. Whether you're dealing with mud, sand, snow, or water, Fat Truck delivers exceptional results providing the power, agility, and reliability to get the job done efficiently.
Unleash the Power of Direct-Drive!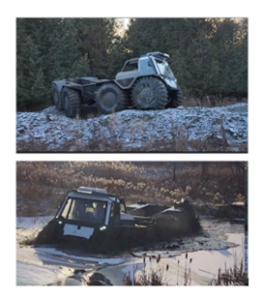 To further enhance your fleet, we are excited to introduce the new 8×8 Hauler and 8×8 Wagon with a shorter 3-month lead time. These vehicles feature direct-drive wheels, which significantly reduce maintenance requirements and improve reliability compared to other options that rely on belts and chains. This innovative design removes the need for maintenance every  100 hours, allowing you to allocate more time and resources toward operations. If you're interested in trying before buying, there is a test facility located near the Montreal Airport where the 8×8 can be driven in off-road conditions prior to purchase. Click here to see them in action in the Fat Truck product demonstration videos!
Your Best and Easiest Solution
Canada Pump & Power is the best and easiest solution for DIVE – PUMP – BARGE – DREDGE operations for all existing and future clients. With specialized equipment as part of our comprehensive offering, we're ensuring you have the tools to overcome obstacles, maximize productivity, and achieve greater project success.  Contact us to optimize your operations today!
---