Expanding Horizons: Canada Pump & Power's R&D Department Receives Grant to Fuel Innovation
June 15, 2023
Revolutionizing Dredging & Pumping Operations

Canada Pump & Power is proud to announce that we have received a $350,000 Research & Development Grant to further improve our Mighty Dredge and Autonomous Mighty Pump technology. This grant will enable us to take all the experience and knowledge gathered while working on multiple iterations of our technology over the years and combine it into a simple and easy-to-use package!
Our team will focus on building the underlying software infrastructure that will be the foundation of our Autonomous and Remote Monitoring products long term, ultimately increasing the simplicity and reliability of our existing product designs.
Innovating for a Better Future
The Mighty Dredge and Autonomous Mighty Pump continue to showcase how technology can have a big impact on dredging and pumping operations for our clients. Both systems allow us to complete projects safer, more efficiently, and with greater accuracy while reducing the project cost. We are committed to continuous improvement and innovation, and this grant will enable us to achieve just that!
Leading the Way for Dredge & Pump Solutions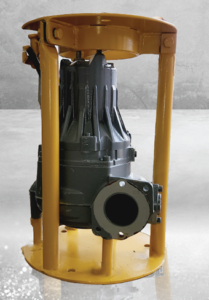 Our team is already hard at work, developing new software solutions that will enhance the capabilities of our products. We will also be focusing on simplifying and streamlining the user experience so that our products are accessible to a wider range of clients who may not be as familiar with dredge and pump work.
CPP is committed to being the best solution of DIVE – PUMP – BARGE – DREDGE for all our existing and future clients. We have always been at the forefront of innovation in the industry, and this grant will help us maintain that position. We are excited to see the impact that these technologies will have on our clients and the industry.
---