No More Dropping Bombs: A Safer & More Efficient Way to Deploy Anchors
July 14, 2023
ANCHORING INNOVATION: SAY GOODBYE TO UNCONTROLLED DROPS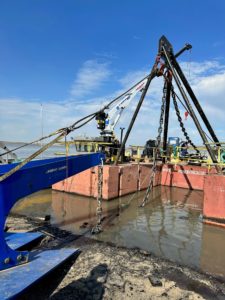 At Canada Pump & Power (CPP), we are committed to providing safe and efficient solutions. That is why we are excited to share our latest method for deployment of anchors from our Mighty Modular Barges! Our experienced team worked collaboratively with our clients to develop an anchor deployment technique that eliminates the uncontrolled dropping of heavy anchors, or "bombs", into the water.
Our team designed an anchor placement system that uses Mighty Modular Barges, industrial winches, an a-frame, tensiometer, GPS, and workboats which safely and efficiently lower, place and set anchors at specific locations within the pond. Once set, these 10,000+lbs anchors are attached to client assets with large diameter chain and wire rope which secures the assets in place. The controlled anchor deployment technique, specialized CPP equipment and experienced industrial marine operators provide accurate placement and safe execution for everyone involved in the work.
ELIMINATING HAZARDS: EXPERIENCE AND INNOVATION AT WORK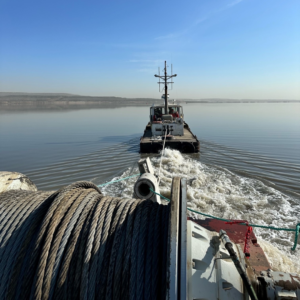 We believe that the best solutions are the ones that are safe, effective, and easy to implement. By leveraging our experience along with this specialized anchor equipment, we have eliminated many of the hazards and challenges typically associated with industrial marine anchor setting. Our team continues to work with our clients, understand their needs, and provide exceptional care, service, and expertise for a variety of applications.
CPP is committed to being the best solution of DIVE – PUMP – BARGE – DREDGE for all our existing and future clients. We have always been at the forefront of innovation in the industry and continue to set the standard for excellence.
---